Palm Jumeirah is the perfect place for a seeker of luxury and opulence to consider when thinking about their next home or investment property.

The island (not a true island, but like one in every other sense) and territory of Dubai has upscale apartments, high-end villas, and award-winning restaurants since Palm Jumeirah was built entirely with high-end living in mind. It includes luxury brand shopping, coveted restaurants, including 11 with one Michelin star and twelve others with two, as well as stunning meals from award-winning chefs at other establishments.

However, before you become too captivated with a piece of Palm Jumeirah real estate you happen to find online, there are some things to be aware of first.
Palm Jumeirah is a manmade island
Palm Jumeirah
, which is shaped like a palm tree to suit its location, is a series of islands that are part of the Palm Islands, which also include Palm Jebel Ali and Palm Deira, which were constructed beginning in 2001. The multi-billion dollar project gave Dubai 320 miles of shoreline.
There isn't a lot of space—luxury hotels and many mansions dot the island—but the palm-frond shape of the island provides more water views and shoreline space that can provide the seclusion you seek.
The sand and rock that make up the island were dredged from a spot 10 miles offshore in the Arabian Gulf.
The final price tag on Palm Jumeirah
was $12 billion, so the three-island final project was a multi-million-dollar bet that paid off.
It can be a tough market
Because of a tight Palm Jumeirah housing market, demand is obviously there, but inventory is limited, making many different factors come into play for a home to become available. Prices on real estate have also jumped 43% since this time last year, but apartments and villas are still going fast.
Celebrities love Dubai
According to Elle Australia
, many celebrities are captivated by Dubai and its islands. Among the celebs who fell hard for Dubai include football player David Beckham, who has a home in Palm Jumeirah that he gave to his in-laws (the parents of Victoria Beckham of fashion and Spice Girls fame), as does Angelina Jolie and Giorgio Armani.
Dubai real estate has consistent demand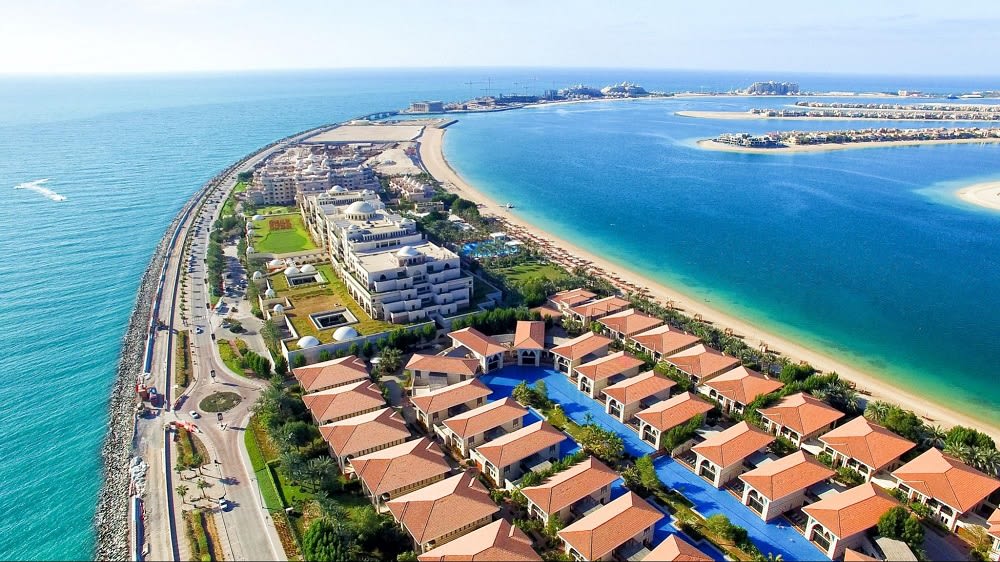 Real estate in Palm Jumeirah is in consistent demand. This is likely thanks to a combination of factors which include the area's desirability and the limited availability of properties. Though prices continue to rise, the area is attractive to high net-worth individuals looking to invest in luxurious properties with sumptuous amenities and all the prestige of a sought-after Dubai enclave. Most of the big-ticket sales for all of Dubai happen in Palm Jumeirah, and it's easy to see why when you reflect on everything it has to offer. Residents have access to fine dining at some of the area's best restaurants, high-end shopping, and lush hotels and resorts.
Homes are amazing
The architectural detailing in luxury Palm Jumeirah is exquisite, with wrought iron rails on spiral staircases, dual pools, and grand views of Dubai at night, a vision in cobalt blue lights.

Some Palm Jumeirah real estate agents have the experience needed to help you find a villa that is more than fabulous and packed with many innovative amenities. They specialize in luxury, and luxury is what you'll get.

There are many more breathtakingly beautiful, sophisticated, and elegant homes to be found on the island. Of course, location is everything. On Palm Jumeirah, the waterfront offers a great view of Dubai, and this stretch of beach is considered among the most coveted locations in the world. Housing options here include opulent apartments, luxury villas with outdoor living spaces surrounding the private pool, and villas with outdoor bars for those who aren't Muslim.
There isn't a lot of space
Houses are located fairly close together on Palm Jumeirah, but architects have done everything possible to create privacy by making excellent use of available land.

There are trees currently being grown in a nursery to help augment these architectural elements of privacy. Other landscaping can help create privacy at the front and the back of the property to create an environment that'll make you feel secluded inside your UAE luxury villa.

With temperatures in the 100s— the highest recorded temperature in Palm Jumeirah was 115 degrees Fahrenheit—a pool is more a necessity than a luxury. Though there isn't a lot of space, you can still buy a home that has a secluded pool for you to relax in or you can add one if you find a home that has a spacious backyard.

Those warm temperatures aren't all bad, however. This also means the water is warm and relaxing and there's no need to get used to water temperatures as you would in a cooler climate.
In the market?
If you're looking to invest,
Fawzi Hamze
is a Palm Jumeirah real estate agent who understands luxury assets and will honestly communicate with you in order to best understand the potential pieces of Palm Jumeirah real estate that may be best suited for your investment portfolio.