Dubai Creek Harbour is a new development that will have more than 100,000 homes when completed. It is a mixed-use area spanning 78.5 million square feet along the Dubai Creek waterfront with stunning sea views. The amenities include opulent homes, offices, shops, restaurants, a marina, and a yacht club. The developers are committed to sustainable practices and are creating an urban area that is good for the environment and the economy.
Real estate investing in Dubai
In July 2022, a record-breaking number of real estate transactions were completed in Dubai: 7,092. The market as a whole saw an annual increase of
63.5%
and an 88.4% increase in transaction value. Foreign investors and expatriates have been attracted by the attractive investment opportunities Dubai Creek Harbour real estate offers. This area provides excellent investment prospects with impressive amenities and tax breaks.
Dubai has no real estate taxes and has the
most transparent real estate market
. Another advantage of owning real estate in Dubai is that rental income is not subject to income tax. Owning investment property in Dubai can be a lucrative revenue source. This is a great time to secure new construction homes in Dubai Creek Harbour.
Dubai Creek Harbour , a fusion of Creativity and Innovation
The districts of Dubai Creek Harbour are comparable to self-contained subcommunities, with each district providing a variety of amenities and attractions.
Dubai Creek Tower: this tower is still under construction but will likely become the tallest tower and tallest artificial structure in the world once completed. It is going to be a top attraction in the area.



The Sanctuary District: near the Ras Al Khor Wildlife Sanctuary, covering 620 hectares.



Creek Island District: a residential area that is home to Creekside 18, Harbour Views, and Dubai Creek Residences.



Urban Core District: the retail and entertainment hub in Dubai Creek Harbour.
Amenities
Living in Dubai Creek Harbour luxury homes affords residents uninterrupted views of the water, parks, and Dubai's skyline. Each residential tower in the Harbour provides fitness centers, pools, and parking. They also include a games room, a children's play area, a BBQ area, and a multi-purpose room for social events. The size of the units ranges from one bedroom to four bedrooms, and some are fully furnished. Penthouses, villas, single-family homes, and townhomes are also available. All the residential units are well-maintained and constructed with high-quality materials in spacious layouts and beautiful designs.

Residences
The community at Dubai Creek Harbour is pet-friendly, family-friendly, and opulent, as it is one of Dubai's most prestigious locations.
Dubai Creek Residences: are a cluster of six towers situated on the water's edge of Marina Creek, providing residents with unobstructed views of the city of Dubai and the natural beauty of Ras Al-Khor.



The Cove: Provides opulent living with a range of units to choose from, including townhomes, duplexes, and apartments.



Vida Residences: A 33-story tower near the Vida Resort with spacious, open-concept apartments.



Creekside 18: These twin towers' luxurious and contemporary apartments are within walking distance of Dubai Square.



Harbour Views: These two towers are the tallest on Creek Island and rise 51 floors into the air. They are home to 750 luxurious apartments.



Creek Horizon: Adjacent to Creek Island and Central Park, these two sleek towers are in a prime position with unparalleled views from the Observation Deck.



Creek Gate: Provides luxury apartments for sophisticated living.



Palace Residences: A contemporary, 44-story tower with 121 units overlooking the waterway and the future Dubai Creek Tower.



Address Harbour Point: Contains several buildings with two residential towers connected to the Harbour with a glass pedestrian bridge.
Shopping

Attractions
Dubai Creek Harbour is packed with entertainment options. There are numerous options, ranging from social gatherings in resident towers to public events. Outdoor entertainment includes walking trails and sports courts. The Harbour is also conveniently close to the Dubai International Airport and downtown Dubai.
Ras al Khor Wildlife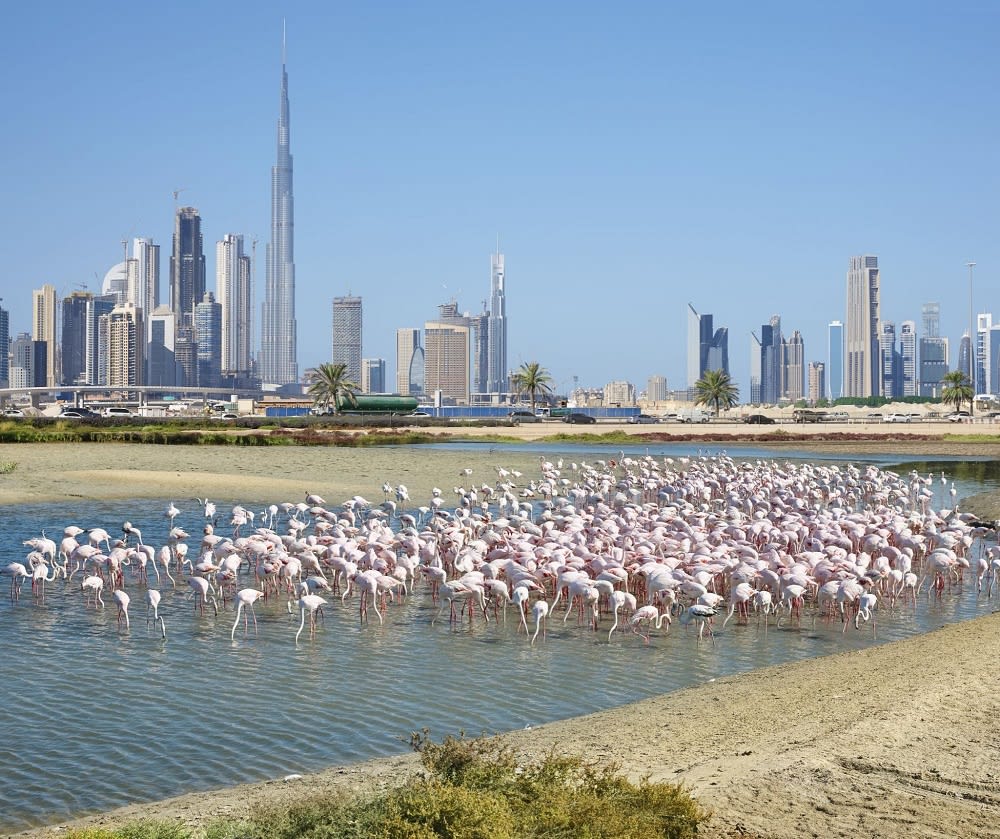 The nearby Ras al Khor Wildlife Sanctuary, also called Flamingo Park, has more than 450 species of animals. It is a protected wetland area with salt flats, mangroves, mudflats, and lagoons. There are three areas where visitors can watch a large variety of colorful birds in their natural habitat.
Dubai Square
Dubai Creek Habrour
The 750,000-square-meter Dubai Square retail complex blurs the lines between indoor and outdoor spaces, shopping, and entertainment. It will have an art district, a futuristic amphitheater, and a waterpark surrounded by upscale shops and eateries.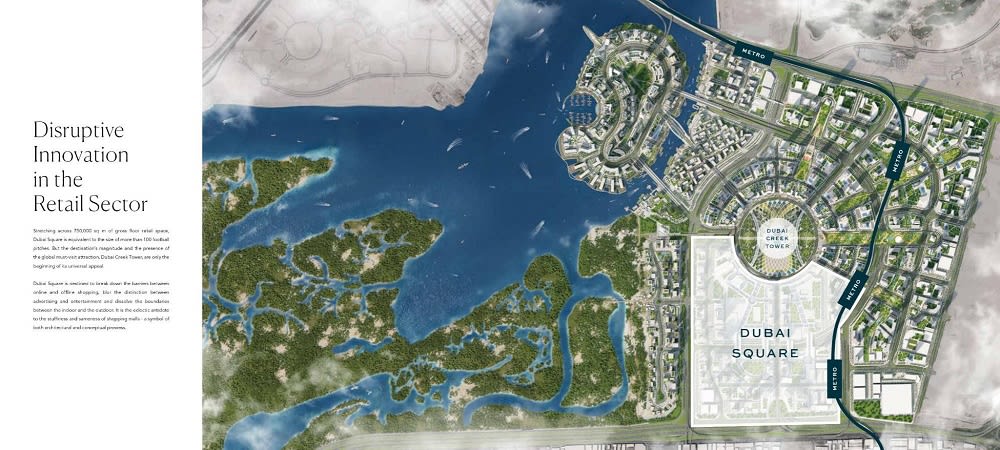 Total Build-Up area
5.7 Millions SQM
Total Residential Units
9262
Total Hotel Keys
1563
Vida Hotels and Resorts is a hub for global leaders in Vida Creek Harbour. The pool deck provides stunning sunset views, all three restaurants focus on fine dining with healthy options, and the fitness center has top-of-the-line equipment. Rooms are pet-friendly, contemporary, and spacious, and some have balconies overlooking the marina.

Creek Marina has a promenade that is vibrant with cosmopolitan life, gorgeous views, and a stunning fountain. It has an exclusive member's-only yacht club and a public marina.

The Dubai Creek Tower, which was designed by Santiago Calatrava, will be the focal point of the Harbour development and will be taller than the renowned Burj Khalifa. It has several observation decks with unparalleled 360-degree views and the highest elevated garden.
Shopping is abundant near Dubai Creek Harbour at the moment . Some of the most popular shopping centers include:
Schools
There are plenty of high-quality schools, from preschool through college, near Dubai Creek Harbour, including:
Universal American School
The City School International
The American College of Dubai
Finding your investment in Dubai
The key to finding the best real estate investments in Dubai is to work with an experienced Dubai Creek Harbour realtor. Fawzi Hamze, the founder of The Assets Advisors, is a successful real estate agent with a background in banking and real estate development who is also well-versed in cryptocurrencies. As an expert in Dubai real estate, he is ready to help you find the best
property
to grow your financial portfolio.